---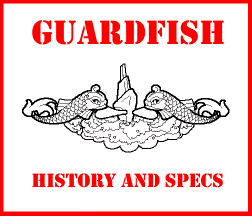 United States Ship Guardfish (SSN-612)
Command History
USS GUARDFISH (SSN-612) was built by the New York Shipbuilding Corporation, Camden, New Jersey. The Keel was laid on 28 February 1961, and the ship was launched on 15 May 1965. On 20 December 1966, USS GUARDFISH was placed in commission. Commander G. A. Hines, Jr., USN, assumed command. GUARDFISH departed Camden, New Jersey, on 15 February 1967, and commenced shakedown training, conducting exercises in the San Juan, Puerto Rico area. Upon completion of these exercises, GUARDFISH transited the Panama Canal and joined the Pacific Fleet as a unit of Submarine Squadron Seven, homeported in Pearl Harbor, Hawaii. She participated in several submarine operations in the Pacific, steaming over 40,000 miles in her first year at sea.
On 13 January 1968, Commander H. A. Benton, USN, assumed command. After conducting a variety of submarine missions and exercises including her first six month Western Pacific deployment, GUARDFISH returned to Atlantic waters to commence an overhaul at Ingalls Nuclear Shipbuilding Division, Pascagoula, Mississippi.
On 4 November 1970, Commander D.C. Minton III, USN, assumed command. After overhaul, the ship returned to the Pacific as a unit of Submarine Squadron SEVEN. GUARDFISH participated in various submarine operations in the Pacific, for which she received the Navy Unit Commendation.
On 15 December 1972, Commander B.G. Balderston, USN, assumed command. On 31 March 1973, Commander W.S. Rich, USN, assumed command. On 14 August 1974, GUARDFISH completed her 612th successful dive. GURARDFISH also underwent regular overhaul at Pearl Harbor Naval Shipyard and went on WestPac. GUARDFISH departed Pearl Harbor, Hawaii in June 1975, to change homeports to Vallejo, California.
On 9 July 1975, Lieutenant Commander G.H. Kandy, Jr., USN, assumed command. GUARDFISH entered Mare Island Naval Shipyard in August 1975 for refueling, and returned to sea in July 1977, Changing homeport to San Diego, California, as an operational unit of Submarine Squadron THREE. In January 1979, GUARDFISH completed a six month deployment to the Western Pacific.
On 9 February 1979, Commander R. E. Vaughan, USN, assumed command. GUARDFISH departed on a six month Western Pacific Deployment in 1980 and was awarded the Meritorious Unit Commendation for operations during its deployment.
On 2 July 1982, Commander D. A. Oltraver, USN, assumed command. The ship won the ASW "E" and Communications "C" in both 1982 and 1983, and was awarded the Silver Anchor Award in the spring of 1984 for her outstanding retention program. GUARDFISH entered Mare Island Naval Shipyard for regular overhaul in September 1983 and completed the overhaul in August 1985.
On 24 August 1985, Commander T. W. Hack, USN, assumed command. GUARDFISH returned from a most successful six month Western Pacific Deployment in January 1987, for which she was awarded her third Navy Unit Commendation. GUARDFISH was also awarded the Silver Anchor Award for 1985 and 1986, and won the Submarine Squadron Three Battle Efficiency "E", ASW "A" , Supply "E" and the Arleigh Burke Fleet Trophy for most improved ship in battle efficiency in the Pacific Fleet for Fiscal Year 1987.
On 7 November 1987, Commander J. B. Bryant, USN, assumed command. GUARDFISH conducted two Western Pacific deployments and a three month Selective Restrictive Availability between September 1988 and October 1990. The ship earned the Deck Seamanship Award for three consecutive years, 1988 through 1990, and was awarded the Silver Anchor and Battle "E" Awards in Fiscal Year 1989.
On 17 November 1990, Commander P. M. Higgins, USN, assumed command. GUARDFISH conducted a Northern Pacific Deployment before changing homeport in June 1991 to the Puget Sound Naval Shipyard, Bremerton, Washington. The ship entered an inactivation availability in July 1991, and was decommissioned on 4 February 1992. GUARDFISH earned the Silver Dolphin flag in 1991 for Enlisted Warfare Qualification excellence.

SPECIFICATIONS
Displacement: 3750 (surf.), 4400 (subm.); Length: 279'; Beam: 31.7';
Speed: 15 K. (surf.), 20+k. (subm.); Depth: 400+; Weapons: 4-21" tt fwd.;
Complement: 12 officers - 94 enlisted men; Class: PERMIT
USS GUARDFISH SSN-612 CAPTAINS
CDR G. A. HINES DEC66 - JAN68
CDR H. A. BENTON JAN68 - NOV70
CDRD. C. MINTON, III NOV70 - DEC72
CDR B. G. BALDERSTON DEC72 - MAR73
CDR W. S. RICH MAR73 - JUL75
LCDR G. H. KANADY JUL75 - FEB79
CDR R. E. VAUGHAN FEB79 - JUL82
CDR D. A. OLTRAVER JUL82 - AUG85
CDR T. W. HACK AUG85 - 07NOV87
CDR J. B. BRYANT 07NOV87 - 09NOV90
CDR P. M. HIGGINS - 09NOV90-DECOMM
GUARDFISH'S FIRST CAPTAIN
COMMANDER GULMER A. HINES, JR., U. S. NAVY

Commander Gulmer A. Hines, Jr. is a native of North Carolina and attended Duke University prior to entering the United States Naval Academy. Upon graduation from the Academy in June 1951, he served in the destroyer USS BEARS (DD654) until entering the submarine service in January 1954. Following submarine school he served in the conventional submarines CAIMAN and BREAM operating out of Pearl Harbor, Hawaii.
In November 1957, Commander Hines reported to the Naval Guided Missile School, Dam Neck, Virginia for training in REGULUS, the first operational submarine-launched guided missile and subsequently served as Missile Officer of Naval Guided Missile Unit Ten. In September 1959, he attended the Advanced Nuclear Power Course at Vallejo, California followed by a six-month period of prototype training at the Nuclear Power Training Unit, General Electric Corporation West Milton, New York. After serving 18 months in USS SAM HOUSTON (SSBN609) commissioning crew as Main Propulsion Officer, Commander Hines reported for duty as Executive Officer of USS GEORGE WASHINGTON (SSBN598) where he participated in four deterrent patrols of this Fleet Ballistic Missile (Polaris) submarine.
Commander Hines arrived at New York Shipbuilding Corporation in October
1964 and assumed duties as Prospective Commanding Officer, USS GUARDFISH
(SSN612). He became Commanding Officer of the GUARDFISH upon her commissioning on 20 December 1966.
GUARDFISH'S SECOND CAPTAIN
COMMANDER HUGH A. BENTON, U. S. NAVY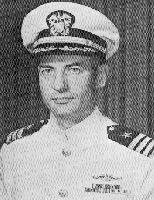 Commander Hugh A. Benton lived in Charlottesville, Virginia prior to attending the University of Rochester in 1947-48. He then entered the United States Naval Academy graduating in June 1952. His first tour of duty following graduation was in the attack aircraft carrier USS PRINCETON (CVA 37) which participated in the Korean War as a unit of Task Force 77. After attending Submarine School in 1954, he served in USS DOGFISH (SS 350) homeported in New London, Connecticut.
Commander Benton commenced nuclear power training in July 1957. The following year he was assigned to the pre-commissioning detail of USS SKIPJACK (SSN 585) in New London and remained on board for twenty months after the ship was commissioned. During most of this period he was Operations Officer and Navigator. He next served for two years as Engineer Officer in the commissioning crew of USS PERMIT (SSN 594) during construction at Mare Island near Vallejo, California and operations from the homeport of San Diego.
Following training in the POLARIS weapons system at Dam Neck, Virginia in 1963, Commander Benton was assigned as Executive Officer of USS HENRY CLAY (SSBN 625) (GOLD) during construction at Newport News, Virginia, shakedown training and one deterrent patrol. He reported to the Bureau of Naval Personnel, Washington, DC in June 1965 as Assistant Submarine/Nuclear Power Assignment Officer.
Commander Benton assumed command of the USS GUARDFISH (SSN 612) 13 January 1968 in Pearl Harbor, Hawaii.
GUARDFISH'S THIRD CAPTAIN
COMMANDER DAVID C. MINTON III, U. S. NAVY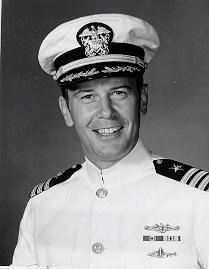 Just look at this man's smile...
"God, I love this job...!"
Having a CO like this is the reason most men ship over,
and make the Navy a career.
GUARDFISH'S FIFTH CAPTAIN
COMMANDER WILIS S. RICH, U. S. NAVY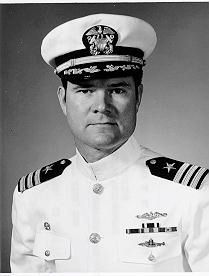 GUARDFISH'S SIXTH CAPTAIN
COMMANDER GARLAND H. KANADY, Jr., U. S. NAVY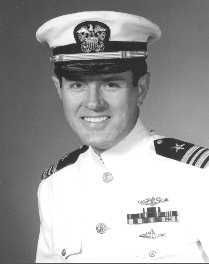 Commander Garland H. Kanady, Jr. graduated from Dartmouth College in 1960 and was assigned directly to Submarine School. He served for two and one half years in USS CATFISH (SS-339) until he entered the Nuclear Power Program in October 1963. After nuclear power training he served for three years in USS SKATE (SSN-578), for two years as Engineer Officer at the S1C Nuclear Power Training Unit in Windsor, Connecticut, and for two years as Navigator and Operations Officer in USS ASPRO (SSN-648). Before taking command of GUARDFISH in July 1975, he served as executive officer of USS HENRY CLAY (SSBN-625) (Gold). During his tour as commanding officer, GUARDFISH went through a refueling/SUBSAFE overhaul at Mare Island Naval Shipyard, completing her first dive to full test depth in 1977. She also completed a successful deployment to WESTPAC and conducted special operations with one of the first digital sonar systems to deploy in the Pacific. After leaving GUARDFISH in February 1979, Commander Kanady served in the Office of the Deputy Chief of Naval Operations for Submarine Warfare and in the Office of the Secretary of Defense before retiring from the Navy in 1986. Commander Kanady grew up in Ponca City, Oklahoma. His wife is the former Mary F. Patterson of Oklahoma City. The Kanadys settled in Centreville, Virginia. They have three children, Kristin, Dustin, and Scott, 16 grandchildren with #17 due in March 2003.
GUARDFISH'S SEVENTH CAPTAIN
COMMANDER RAYMOND E. VAUGHAN, U. S. NAVY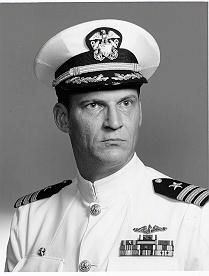 GUARDFISH'S NINETH CAPTAIN
COMMANDER TED W. HACK, U. S. NAVY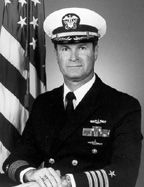 GUARDFISH'S TENTH CAPTAIN
COMMANDER James B. Bryant, U. S. NAVY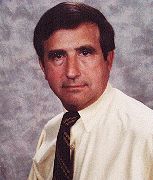 GUARDFISH'S ELEVENTH CAPTAIN
COMMANDER PAUL M. HIGGINS, U. S. NAVY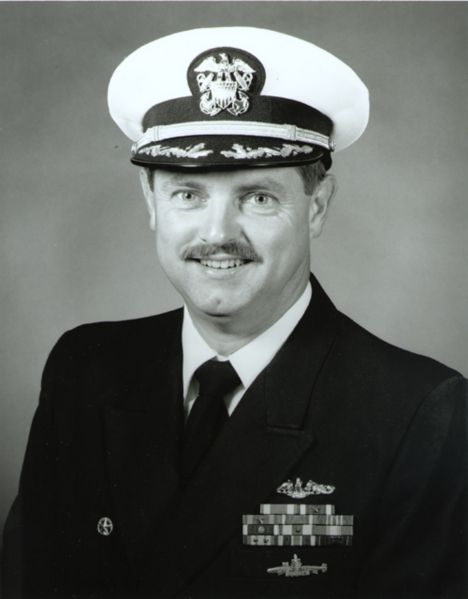 Commisioning Ceremony 20December1966
Precom Unit 1966
Officers

CMDR G. A. Hines, Jr.
Commanding Officier

LtCdr. L. S. Wigley (XO) LtCdr. Leo C. Wright (Eng.)
Lt. Joe L. Bell (Aux. Div.) Lt. William F. McGonegal (MPA)
Lt. Robert W. Lowe (Operations) Lt. William J. Lorino (Weapons)
Lt. Ian H. Sargent (Supply) LtJg. Stephen M. Buescher (EMO)
LtJg. James D. Solon (Comm) LtJg. Richard L. Bunce (Food Serv.)

Chief Petty Officers

RMCS (SS) Fredrick E. Myers
Chief of the Boat

SDC (SS) Mariano A. Abad ENCS(SS) William F. Kline
QMC (SS) Louis M. Barnes EMC (SS) Kenneth J. Lowen
MMC (SS) Harold L. Bartke ETCS (SS) George J. Sapir
RMC (SS) Robert E. Farrell ENC (SS) Glenn E. Suttle
ETC (SS) Cofer L. Gray STS (SS) David Whitten

Enlisted Men

ET1 (SU) Andrew R. Andersen ETN2 (SS) Paul A. Koceski
MM2 (SS) Thomas J. Barcelona SN (SU) Dennis A. LaHines
EN1 (SS) William E. Barfield IC1 (SS) Vernon 0. Lee
ST1 (SS) Lee C. Beran MM2 (SU) Patrick M. Lewis
STS2 (SU) Rainey B. Beyer CS1 (SS) Leonard R. Madigan
QM1 (SS) Carl J. Blanton ETR2 (SS) Paul L. Marlin, Jr.
TM2 (SS) Robert M. Bradley FTG3 (SU) Robert B. Mease
MM2 (SU) James E. Brewer TM3 (SU) Henry A. Mezori
ST1 (SS) Patrick J. Brown IC2 (SS) Gerald B. Morse
STS2 (SU) Joseph F. Bullock, Jr. EM2 (SU) John D. Mullin
IC1 (SS) Harold G. Cash SK1 (SS) Patrick H. O'Neill
EM2 (SU) Lee C. Chappell YN1 (SS) William R. Parker
FN (SU) Peter B. Courcy MM2 (SS) James G. Patterson
MM2 (SS) Stuart B. Culleney MM2 (SS) Gerard T. Payne
MM1 (SS) David M. Delarye EN2 (SS) Eldon C. Peck
MM2 (SS) Daniel P. Dlouhy IC2 (SS) John L. Pemberton
IC2 (SU) Ernest R. DuBois MM3 (SU) Russell S. Perkins
EM1 (SS) Johnnie E. Eaton MM2 (SU) Douglas A. Peterson
EM2 (SU) Herbert A. Edmonds EN1 (SS) James W. Placek
QM2 (SS) Joseph D. Everhart RM1 (SS) Lee F. Plummer
ETR2 (SS) Arthur T. Falconer FTG1 (SS) Thomas E. Ponder
QM1 (SS) Eldridge V. Felder IC3 (SU) Dallas Preston
ET1 (SS) Kenneth L. Fleming MM1 (SS) Robert A. Ramos
HM1 (SS) Eldo W. Friedley RM1 (SS) Riley E. Ransdell
CSSN (SU) Paul R. Gardner MM2 (SU) Robert H. Ridge
MM3 (SU) Thomas W. Garot EM1 (SS) James W. Sadleir
SD2 (SS) Rodollo V. Gloria FTG1 (SS) Robert J. Sampson
FN (SU) Howard A. Gniffke SN (SU) Terry N. Satterthwaite
SN (SU) Richard A. Groeneman STS2 (SS) Harold W. Scott II
TM2 (SU) Freddie L. Harper TM3 (SS) Paul S. Sipera
ST1 (SS) Richard J. Harrison MM2 (SU) Larry E. Slightom
IC2 (SU) James R. Heath EN1 (SU) Garrett A. Smith
ETR2 (SS) Richard A. Hewitt MM2 (SU) George L. Stevens
ETR2 (SS) Samuel T. Higa QM3 (SU) Peter D. Stone
FTG1 (SS) Harry J. Hirt, Jr. MM1 (SS) Thomas C. Tulk
EM1 (SS) Frank L. Holden STS2 (SU) Howard C. Warner, Jr.
TM1 (SS) Ronald W. Holland TN (SU) Jimmy D. White
MM1 (SS) David R. Hyster YN2 (SU) Charles R. Whitlock
TM1 (SS) Dale C. Jung SN (SU) Robert D. Wilson
CS2 (SS) David A. King ETR2 (SU) Terry L. Wood


For comments or for more info concerning this
website, please contact me...
Dallas Preston
COPYRIGHT ©2001, Dallas Preston,